Skip to Content

Welcome To
An Innovative Long Term Care Facility in Edmonton, AB
Welcome to Venta Care Centre. Where Wellness Begins.
Venta Care Centre is a long-term care facility situated in a residential neighborhood in northwest Edmonton. Our centre consists of 148 private and semi-private beds in a comfortable, home-like environment.
We are an innovative facility providing exceptional quality continuing care service, and accommodations to the community since 1953.
Our goal is to provide person-centered care and service in partnership with our residents and their family members.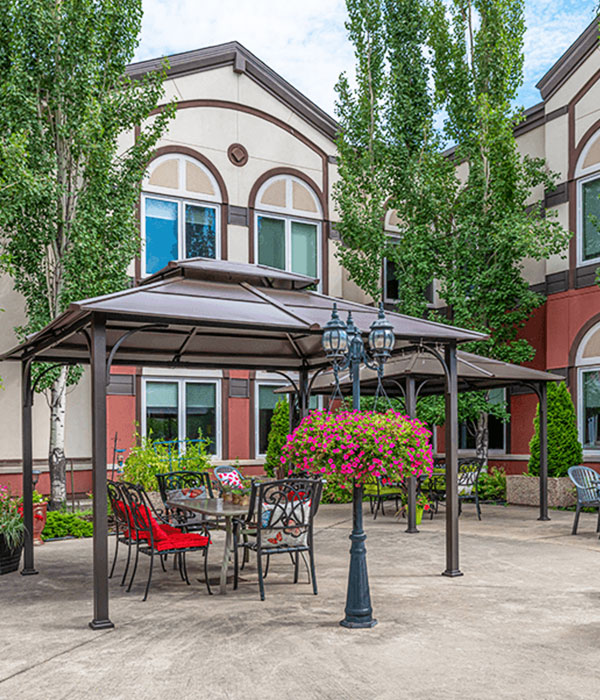 Our Mission, Vision and Values
Our mission is, and always has been, to provide family-focused care with respect and dignity. We are committed to working with residents and their families in the planning and delivery of quality, individualized care.
Our vision is to provide an innovative, holistic, responsive long term care services in partnership with residents and families. This collaborative and holistic approach recognizes the importance residents and families are to the care team.
Our values are who we are and exemplified in our Venta name. We strive for and are:
Visionary: Integrating creative and innovative ideas into work-based routines.
Excellence: Providing care with evidence-based practices.
Nurturing: Fostering healthy relationships between residents and families.
Transparency: Providing timely communication with integrity.
Accountability: Maintaining responsibility and answering to one's own actions.
Everything You Need Is Right Here
Venta Care Centre provides services for people with complex unpredictable medical needs requiring 24-hour on site Registered Nurse assessment and/ or treatment. In addition, other professional services are provided by:
Licensed Practical Nurses
Nurse Practitioner
Health Care Aides
Attending Physicians
Pharmacist
Registered Dietitian
Occupational Therapists
Recreation Therapist
Social Worker
Dentist and Dental Hygienist/ Assistant
Canada Mobile X-Ray Services
Diagnostic and Laboratory Services
Other Consultative Services – Palliative Care, Respiratory Therapy, Enterostomal Therapy, etc.
Testimonials
Given the struggle of dealing with Covid, along with normal duties at any Long Term Care Centre. Venta Care set's the Gold Standard.
All staff have gone above and beyond to keep our loved ones safe. We are so lucky to have such a great place and great staff herein
Edmonton.
Thank You.
Very clean accommodations, staff very friendly and willing to help with any questions. Happy with immediate information given to us on any changes made our Aunts care. Overall very happy with the care and concern that was given to our Aunt at this point in her life.
Venta is a very welcoming place for senior citizens. They are also very cooperative and keep you informed of your family members' health. I would recommend this accommodation.
My grandfather is placed in care here and I have to say that this place is excellent. The staff is friendly and very hard working and the place itself is very clean; immaculate even.
Would highly recommend it. Exceptional care and professionalism.
Well-appointed, compassionate, and helpful staff.
Excellent quality of care and communications.
13525 102 St NW, Edmonton, AB T5E 4K3, Canada