Skip to Content
Accommodations at Venta Care Centre
At Venta Care Centre we offer a safe, comfortable environment to meet the needs of our residents. We are a 24/7 secure, non-smoking facility, made up of 72 private and 76 semi-private spaces divided between two floors. Our facility has undergone renovation and expansion in 2004. Every unit has communal dining rooms, lounge areas, air-conditioning, and combined Tub/Shower Rooms.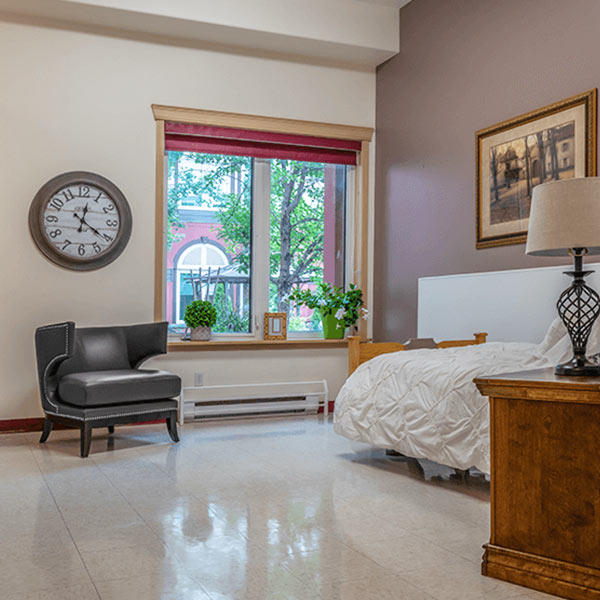 Comfortable and Spacious Rooms
Resident rooms are spacious and bright but do vary in size and configuration. Rooms are TV cable equipped and consist of an adjustable hospital bed, bedside table, wardrobe/closet, chest of drawers, and a chair. All rooms have an attached two or three-piece washroom. Residents are welcome and encouraged to personalize their room to make it feel like home.
Accommodation Fees
Our 148 private and semi-private rooms are publicly funded. The Alberta Government regulates accommodation fees that cover the cost of meals, snacks, housekeeping services, linen services, building maintenance, utilities, etc.
The accommodation fee is the responsibility of the resident and/or their family. Our current accommodation fees are:
$70.10 per day for a private room
$60.30 per day for a semi-private
Rates are subject to change. A 90-day notice period prior to rate increases will be made by the facility.
Learn More About Venta Care Centre
Venta Care Centre takes pride in our facility and the excellent care and service we provide. We would be happy to answer any of your questions and welcome the opportunity to offer you a tour of our site. Please Contact Us for more information.